Legal translations
For 20 years, our team of experienced legal professionals, attorneys and legal linguists from various countries, legal systems and industries has been successfully translating complex legal texts.
Thanks to our understanding of the legal contents of the texts we ensure that the translation is not only linguistically flawless but also substantively precise.
With our consistent quality management according to ISO17100 and ISO18587 we guarantee the linguistic precision and the legal quality of the translated documents. Depending on client requirements, intended use, target audience, content, language combination and other criteria, we generally offer you two different processes:
Professional human translation
(according to ISO17100)

The source text is translated into the target language by a legal translator and then reviewed and revised by a second legal professional/attorney.
Premium post-editing
(according to ISO18587)

Machine-translated on our own servers under conditions of strict confidentiality, the texts are then reviewed and revised by legal professionals/attorneys. Depending on the source text, this results in cost savings of up to 50%.
Upon request, we can create and manage a glossary for your company on the basis of your company-specific terminology and therefore ensure unitary usage of the relevant terminology within the (legal) documents of your various company divisions.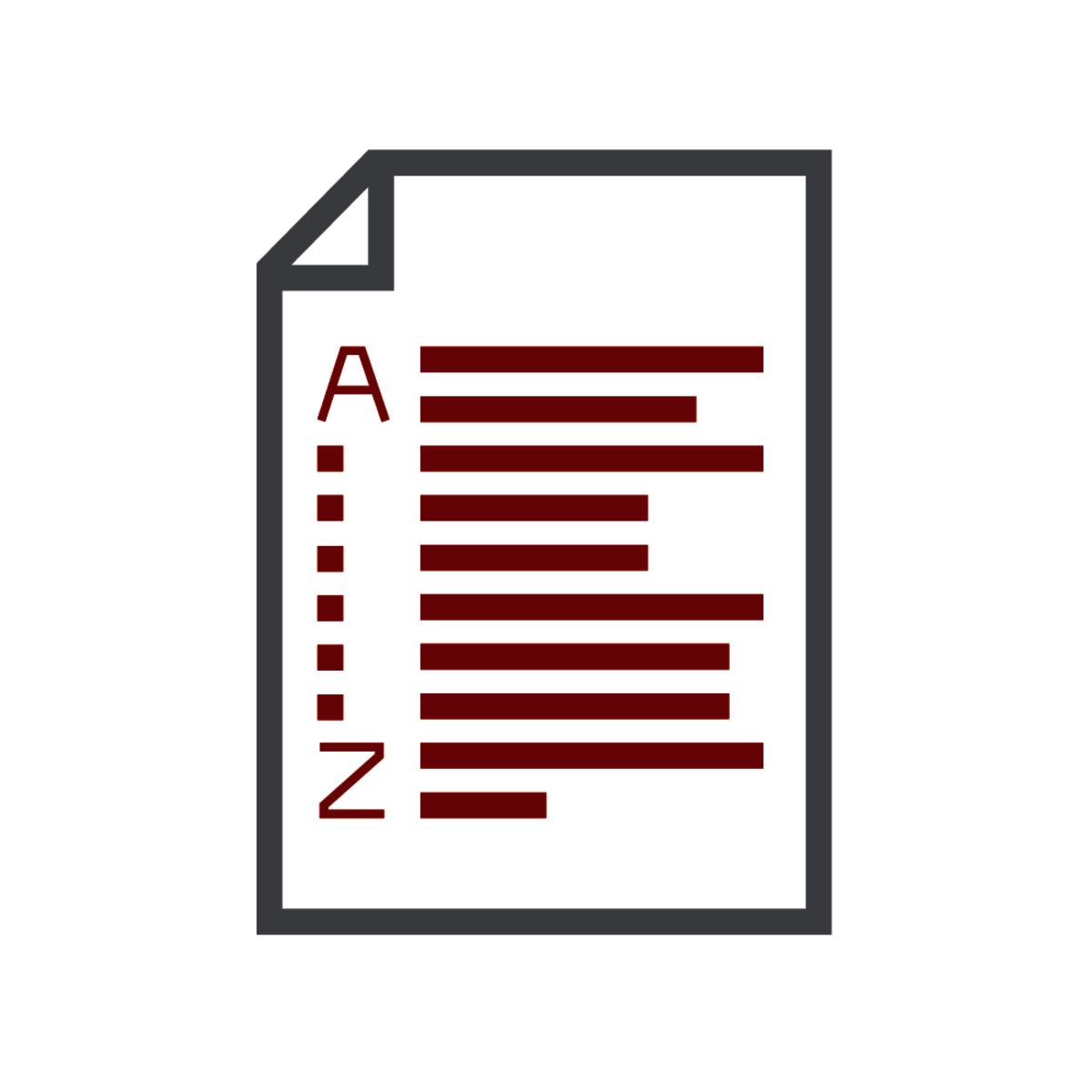 You receive a foreign language legal document and need to know what it deals with or you only need the most important parts to be translated. Our lawyer linguists will analyse the document in accordance with your specifications and draw up a summary of the most important content in the desired target language.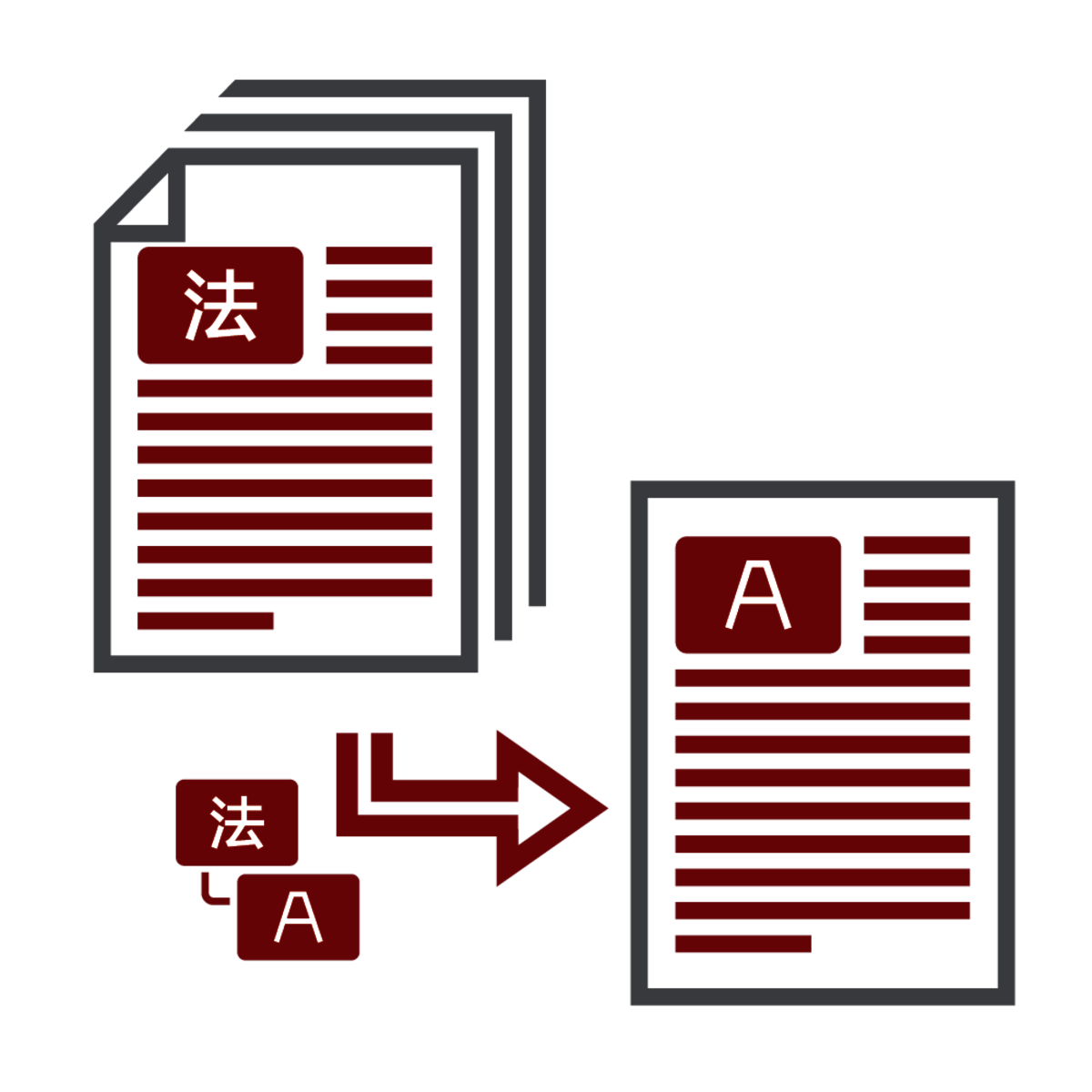 Review (either language only or language and content)
You would like a text that you have written to be reviewed, or arrange for a document written by a third party to be reviewed for linguistic accuracy, and if required also its content. We are happy to provide our native speaker reviewers who are well-versed in the particular area.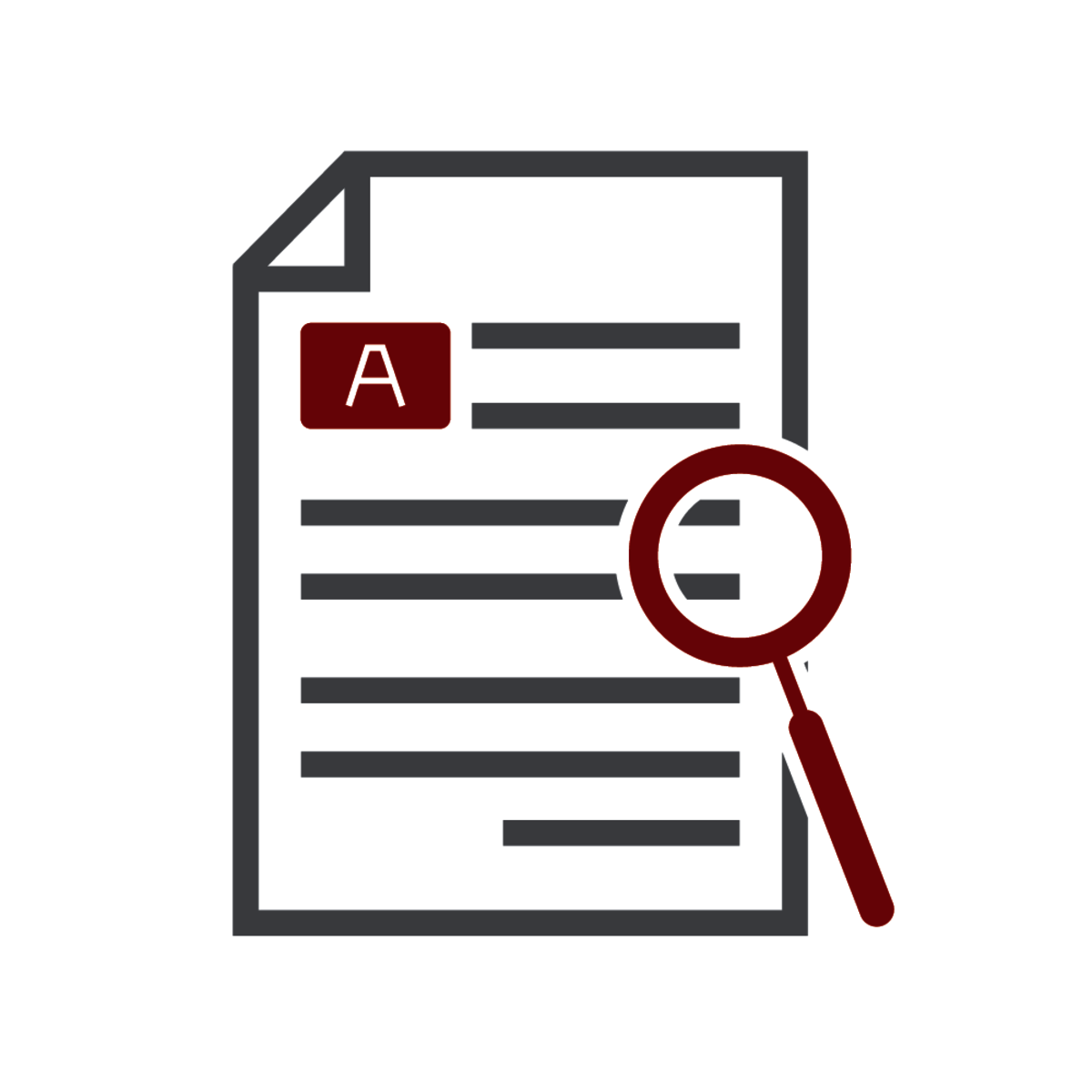 A previously translated document has been amended in the source language, and these changes now need to be implemented within the respective translations. We will be happy to make the adjustments for you.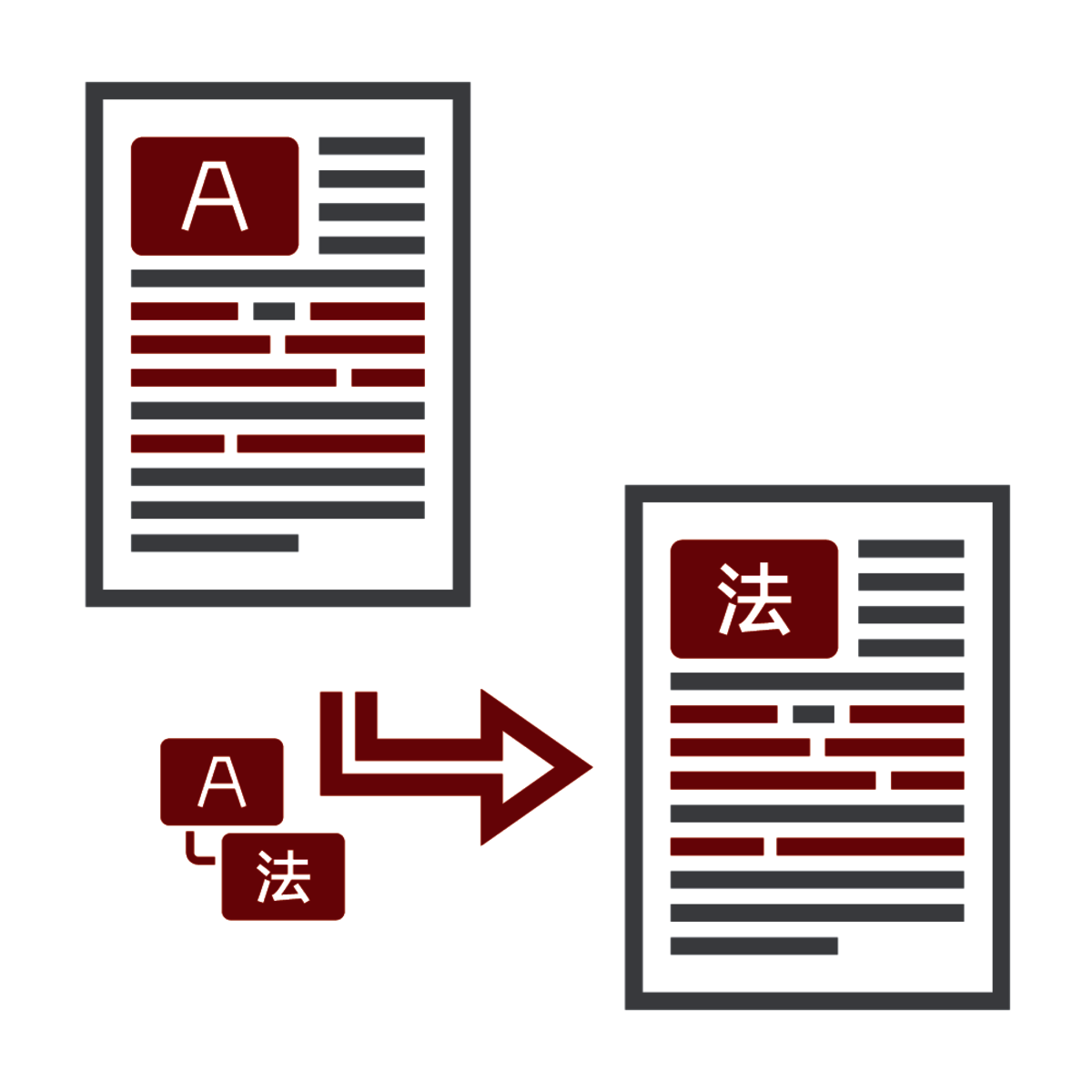 You have doubts regarding the quality of an existing translation. Upon request, we will be happy to review it for linguistic and terminological accuracy and also in order to ensure that it is a substantively accurate translation of the source text.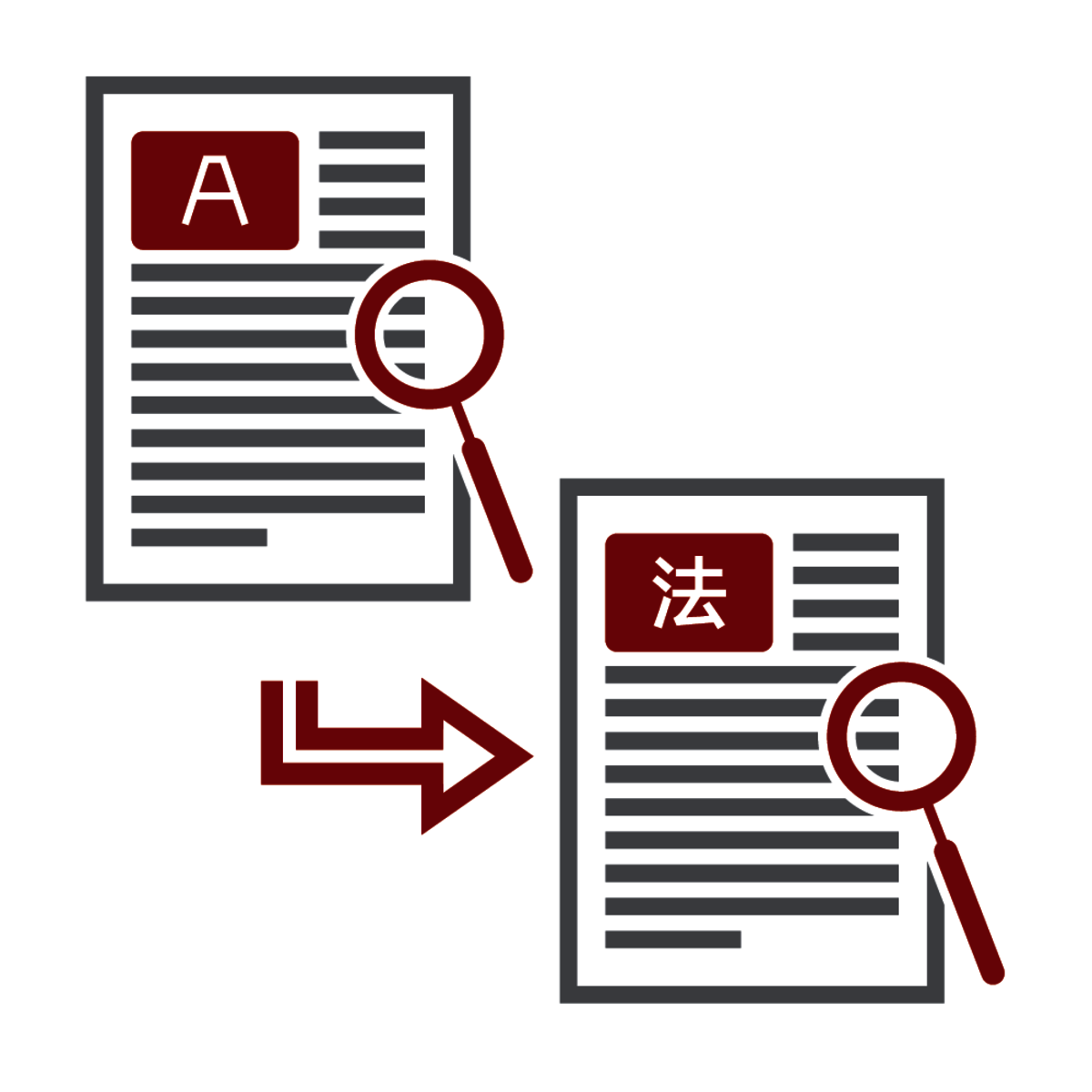 Translations for official use
Do you have documents that you need to have translated and submitted to an authority in another canton or country?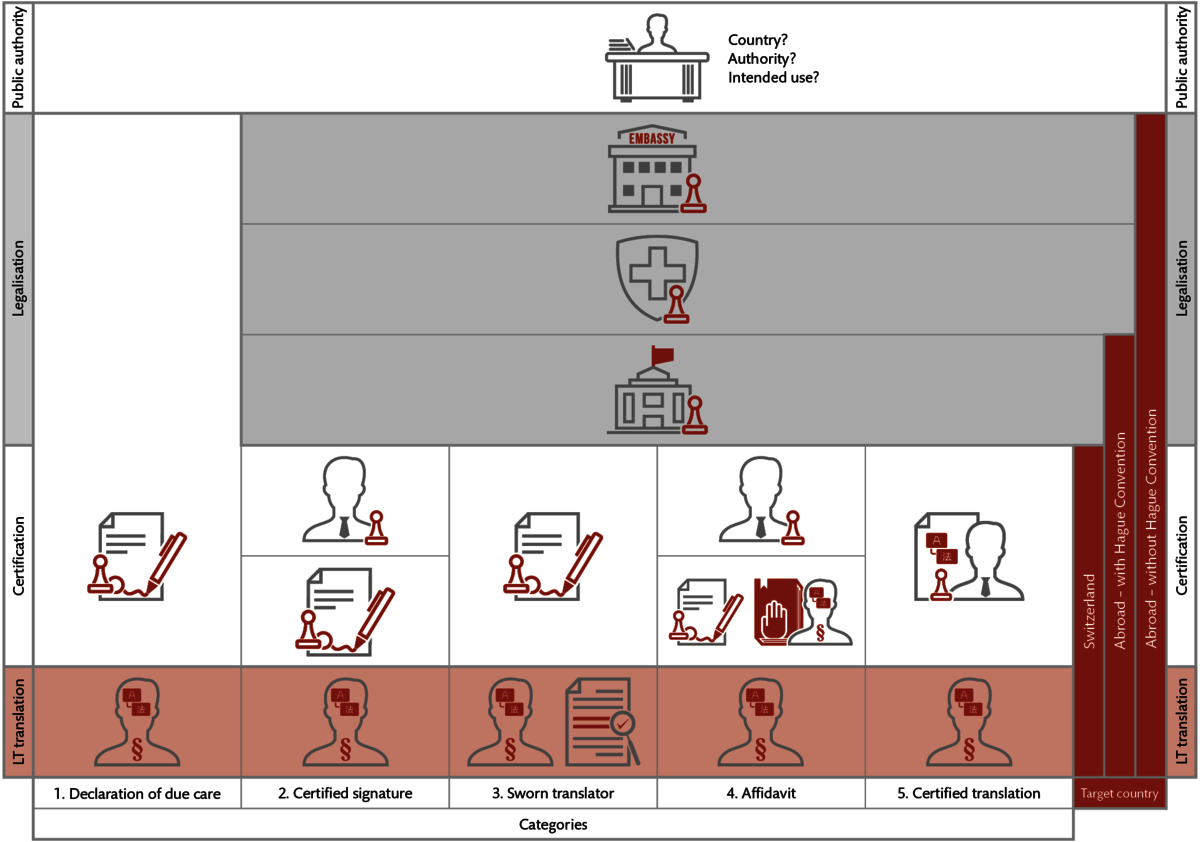 With our global competency network we translate from/to:
Since our inception, we have continuously and carefully built up a global network of attorneys, legal professionals and legal linguists with deep practical and linguistic knowledge. This allows us to provide the highest rate of legal and linguistic precision in over 40 languages on all continents.
Group A
Dutch
German
English
French
Italian
Portuguese
Spanish
Group B
Bosnian
Croatian
Czech
Danish
Norwegian
Polish
Romanian
Serbian(Latin)
Slovak
Slovenian
Swedish
Group C
Belarusian
Albanian
Bulgarian
Greek
Latvian
Lithuanian
Macedonian
Russian
Serbian(Cyrillic)
Turkish
Ukrainian
Group D
Arabic
Bengali
Chinese
Estonian
Finnish
Hebrew
Hindi
Hungarian
Japanese
Koreanisch
Marathi
Tamil
Thai
Vietnamese
*Other languages on request
---
Selected LT practical examples of translations within legal proceedings
Translations in parallel with negotiation
Translation support for negotiations concerning a collective employment agreement for a public sector enterprise.
Particular challenges on this project included the very tight deadlines and the need to reflect linguistic nuances when implementing the results of negotiations into two national languages.
---
Support for courts, arbitral tribunals or within administrative procedures, from the statement of claim through to the final judgment
Since it was founded, LT Lawtank has provided translation support within countless national and international legal proceedings, in some cases through various instances. We have provided translations with legal force or binding effect, although also purely for information purposes.
Exchange of correspondence between the parties
Court orders
Correspondence
Evidence
Judgment
---
Support within a WTO accession process by a developing country
Acting on the instructions of the Department of Commerce of a mentor state to a North African country seeking accession to the WTO, LT Lawtank provided translation support over a number of years during the preparatory stage for accession, in the process translating significant quantities of legislation that was of relevance for the accession.
---
Translation of due diligence documentation in relation to the purchase of an enterprise
LT Lawtank has translated comprehensive documents and contracts of relevance for a number of M&A transactions (in some cases working in a data room, and in others with remote access).
---
Linguistic support to a group of companies in dealing with an extensive in-house corruption procedure
Support for the procedure by LT Lawtank from the first examinations as part of the in-house investigation through to the public criminal prosecution and damages action.
---
Translation of a marriage and inheritance contract with subsequent interpreting at the notarisation ceremony
An English mother tongue couple concludes a marriage and inheritance contract in French and has it notarised by a notary public in the Canton of Fribourg. In order to ensure that the parties understand the contents of the contract and to comply with the requirements of notarial law, LT Lawtank translates the French contract into English and subsequently the same legal translator then acts as an interpreter in French and English during the notarisation ceremony held at the notary's offices.
---
Linguistic support concerning legal aspects and the preparation of communications for major tournaments held by various sporting associations (sponsorship contracts, media law contracts etc.)
Translation of CTD documentation in relation to the licensing of pharmaceuticals
Translations relating to the preparation of new draft legislation and within consultation procedures for federal and cantonal legislation
Translations relating to legislative drafts and messages for discussion in Parliament
Support over a number of years for a corporate restructuring: Translation and adjustment of comprehensive employee documentation (guidelines, regulations, handbooks, HR templates etc.)
---
Various LT practical examples of other documents translated
Timely translation of large volumes with complex specialist terminology
Regular foreign language support for legal publications of leading publishers
Commentary on the Swiss Occupational Pensions Act/Vested Benefits Act
Legal theory publications
Leading civil law journals:

AJP
FamPra
forumpoenale
SZS
Sicherheit & Recht
and more...
---
Documents for courts and administrative authorities
LT Lawtank regularly translates for various courts and administrative authorities. Documents include statements of claim (and in some cases the entire exchange of correspondence), decisions, orders, forms and other documents with legal force or binding effect into other official languages or the native languages of the participants.
---
Notarial instruments and Commercial Register extracts
LT Lawtank's staff are fully versant with the often formalistic language, expressions and abbreviations used in notarial practice within various legal systems.
Incorporation of foundations
Incorporation of capital companies
Establishment of branch offices
Real estate contracts
Translation of wills (subject to particularly exacting requirements of precision due to the principle of devisor intention)
Marriage and inheritance contracts
Civil status documents
and more...
---
Translation of a handwritten will
Careful transcription of a handwritten will with subsequent translation into the language of the competent inheritance office / executor. Because of the applicable principle of actual intent, it was essential that the translator adhered strictly to the testator's formulations and did not translate freely.
---
Fund prospectuses (subject to particularly exacting requirements of precision due to the enhanced prospectus liability)
KIIDS
Fund annual (or half yearly) reports
FATCA documentation
Management reports
Annual accounts
Documents relating to licensing procedures (FINMA [CH], BAFIN [DE], AMF [F])
---
Incorporation documents
Articles of association
Organisational regulations
Codes of ethics
Management reports and annual reports
BoD minutes
Remuneration reports
Data Protection Policy
and more...
---
Contracts of employment
Staff regulations
Guidelines
Employment references
Codes of conduct and codes of ethics in more than 10 languages
Documents relating to employment law disputes
Documents relating to job advertisements
Notices of dismissal
and more...
---
Any type of individual contract or standard form contract (both for information purposes and also for signature in the target language)
GTCs
Terms of participation
Websites
Scientific studies
Bankruptcy schedules
Tax documents, e.g. tax rulings
Decisions of cantonal tax boards
Training documentation
Specialist examinations
Insurance policies
Insurance contracts
Insurance regulations
Legal opinions
and more...
---